Yesterday, I received this email from a prospective student's mother filling me in on her son's background prior to his interview today:
…He had piano lessons since the age of around 6 until last Spring and did 5 years of National Piano League. He is now 13 years old (soon to be 14). We stopped the lessons as he was not interested to follow a classical repertoire. Since then he did a bit of guitar and more recently drums. He is a bit rusty as you can imagine but he would really like to give piano another try.
Whew!
At least this guy is willing to "give piano another try." I'll rescue him by showing him the likes of back beats, seventh chords and blues scales but unfortunately, his educational experience is still the norm. We all know the pattern,  10 – 14 year olds, often boys, who quit music lessons because they cannot find the means to play the music they enjoy.  How many others will enter the classical-only lessons mill only to quit a few years later due to a lack of 21st century skills?  
It's 2014 already…
Recently, my teaching colleague and friend, Wendy Stevens interviewed, Pete Jutras, editor of the premier piano teacher's magazine, Clavier Companion, about the future of music pedagogy. Pete had many interesting thoughts to share and you really owe it to yourself to read the whole thing but for me the comment that most summed it up was, "Whether we like it or not, kids are not going to travel back in time just for piano lessons and suddenly pretend they live in the eighteenth century!"
To own the music, help students make their OWN music
When asked later in the interview about action items to help piano teachers teach more effectively in the 21st Century, Pete's reply included, "Allow more time for your students to be creative at the piano. Let them do some arranging, some playing by ear, some improvising. These are all useful skills, and students will take ownership of these activities. When students create their OWN music, they place a very high value on it and gain a sense of fulfillment and pride."
See the pride and satisfaction on his face?  It's priceless.
So how can teachers trained exclusively to read music learn to teach "off page" and out of the box?  Seek professional development in this vital but underutilized area of pedagogy.  Here's a list of some of my favorites venues:
88 Creative Keys Camps – First of its kind to focus exclusively on improvisation for pianists with tracks for teachers, students, and adults co-founded by Leila Viss and myself.  Nothing else like it on the planet.  Locations in Denver, CO and Columbus, OH.  Here's a sneak peek of last year's teachers taking turns reading and improvising: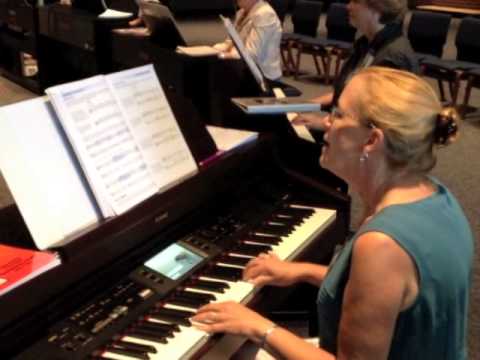 MusicEdConnect – Online conference for all areas of classroom and studio music teachers.  I participated in this recently and it was pretty cool to hear and speak to colleagues all over the country without leaving home.
MTNA Pedagogy Saturday Improvisation Track – Nine hours of insights from experts.  This year's session are already sold out so register early for next year.
National Conference on Keyboard Pedagogy – the 2015 conference is expected to feature improvisation prominently. Details TBA
Southern Methodist University Institute for Piano Teachers – This year's focus topic is improvisation with a dream team of top clinicians.
Isn't it time for you to "give piano another try?"
There's always more to learn in this huge field of music and pedagogy. Teaching to the ear retains students, balances their reading skills, and is fun for both the teacher and the student.  What are you waiting for?  Get one or more of these venues on your calendar and have a blast learning cool new stuff to play and teach.
Until next time, enjoy your creative music-making journey,
Bradley Sowash