Since one of the purposes of this blog is to inspire musicians and music teachers to get around the idea that one must be innately gifted to play by ear, I thought it would be fun to share three very different improvisational encounters with the hope that it will inspire you to put away the written music now and then and do your own thing.
Jamming with a fellow musician must be like Mr. Spock's Vulcan mind meld. In some ways, you learn more about someone by improvising together then you would by sharing a long, soul-searching dinner conversation. How they lead and follow, perceive time, utilize their imagination, hold onto or abandon ego for the sake of music… all reveal what they think and feel, at least, at in that particular moment.
II III II III II III II III II
Leila Viss

My business partner, Leila Viss helped me launch 88 Creative Keys improv piano camps and clinics. Our business partnership evolved not because she is a master piano teacher, iPad Piano Studio guru, influential music education blogger, or group teaching specialist (though these things helped). What really grabbed my attention was her willingness to, in her words, "get out of the box" by adding improvisation to her considerable skill set. Here was a classically trained piano teacher and working musician (she plays organ and piano at a large church) seriously interested in learning to play "off page." Though she continues to remind me in our online lessons that, "I'm a gal who adores the printed page," her improvising prowess grows weekly. (You can track her progress on her blog.) As such, she's become the poster child for the teachers who attend our events because she proves that it doesn't take 30 years experience to have fun jamming.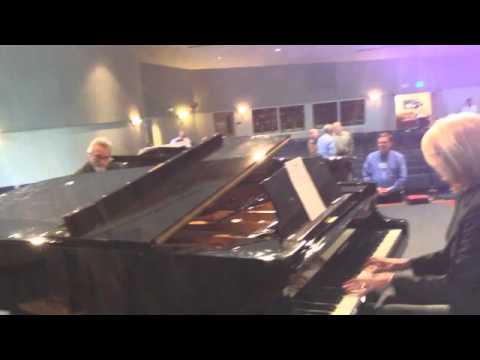 This video was the first tune we ever improvised together. I was the guest performer at her church on this particular Sunday morning.  Since there happened to be, not one, but two great pianos on the altar that day from a prior event, we grabbed the chance to play a post-postlude which, thankfully, her husband Chuck, documented.
II III II III II III II III II
Christian Howes

I met jazz violinist, educator, and producer Christian Howes in music school where we both took an Alexander Technique class to learn how to release muscular tension that interferes with performing. Chris grew up in Columbus, Ohio, where he studied classically from the age of five, performing as a soloist with the Columbus Symphony Orchestra at age 16. At age twenty, performing at regular gospel church services influenced him to change musical directions. "The experience was so different from the classical music world; it felt fresh and inspiring. It became my mission to become a violinist with a strong voice in jazz."
Since his shift 21 years ago, he has become one of the world's most respected jazz violinists.  How did he get there?  He works at it. I happen to know that Chris is a theory and technique fiend who encourages his students to spend at least half of every practice time playing off page.  He's also a deep thinker about creativity.  Check out his blog, Finding The Courage To Create.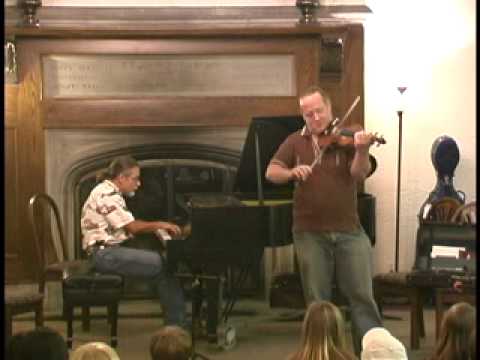 In this clip, Chris and I tagged a spontaneous duet onto the end of faculty classical chamber music concert at a camp run by Chamber Music Connection.  We hadn't rehearsed or ever played together before but we both were familiar with George Gershwin's "Lady Be Good" so off we went.
II III II III II III II III II
Sara Pajunen

I was introduced to Finnish fiddler, Sara Pajunen by one of her students. Five minutes after meeting, we started jamming before an impromptu audience of family and friends. I'm particularly glad that one of them snagged this video because, of all the coniderable musical ground we covered that day, this one was special.  With no tune in mind, no discussion of the key, or groove, or anything – this gentle, uplifting music came wafting out near the end of our jam.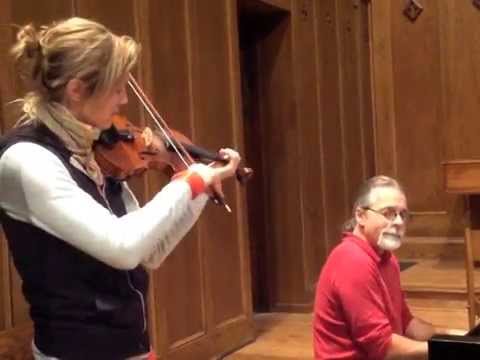 The following week, I emailed Sara to ask how she learned improvise.  Her reply was as good a lesson in improvisation as any I've heard:
I studied classical music from 6-28. I just started to improvise after that, it happens little by little, it's still happening little by little, and will continue happening little by little. Playing with others, sometimes playing to backing tracks at home.
II III II III II III II III II
You Can Do It
Want to learn how to do this? Just do it. Are there tips, tricks, skills, and knowledge involved in improvising? Yes, and it is a good idea to learn all you can about how music is made, but this is not necessary to get started. Everyone begins with unsure baby steps, insecurity, and a feeling of not knowing what the heck they are doing.  Begin by embellishing a melody, interpreting a lead sheet, turning your scales upside down, doodling, or just play making it up as you go. Avoid self-judgment or thinking about rules and don't stop.
Improvise 1 minute and you'll think, "I can't do this."
Improvise 5 minutes and you'll discover a few sounds you like.
Improvise10 minutes and you'll notice patterns you prefer.
Improvise 15 minutes and you'll forget about your hang-ups.
Improvise 30+ minutes and you'll erase your ego and enter a musical space where ideas just flow (or not, doesn't always work that way).
Then do it again tomorrow, and the next day, and the next… You'll soon discover, like these musicians, that improvising, like any music skill, gets better with experience.
Until next time, enjoy your creative music-making journey,
Bradley Sowash
II III II III II III II III II
Check out the Toebourine™
A great tool for keeping time with your students.