One of the most enjoyable aspects of teaching creative music making is to witness the variety of approaches students take to rethinking a tune according to their own tastes and preferences.
Every year around this time, I ask select students to come up with new versions of Christmas tunes. I might throw out a few suggestions to get them started but I specifically avoid guiding them very much at all. The idea is to get them to get them to apply what they've internalized from their studies as independent creative musicians.
Mashup
Here are three different versions of this classic holiday tune as interpreted by my students.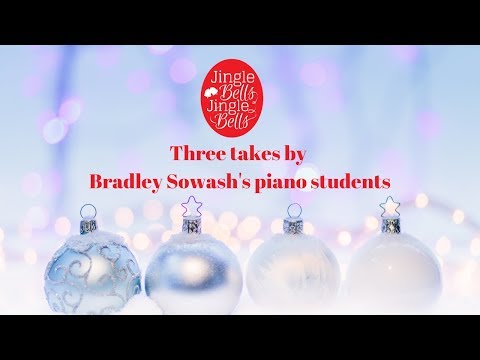 1. Fourteen year old Michael Wade creates new music easily. At some point in almost every lesson, (usually while my back is turned) he'll launch into his latest composition. Here is his twisted version of Jingle Bells in a minor key with a "jump bass" or "basic stride" in the left hand. Your takeaway? Changing tonality like this is a great arranging trick that can yield surprising results.
2. Noah Gosnell, (also 14) prepared these variations for a creative music competition. This is an early draft and I haven't actually seen the version he submitted. The video was shot in portrait mode and then converted to landscape so the image is a tad distorted but it doesn't matter. The takeaway is to emulate the theme and variations approach he gets by varying accompaniment styles.
3. Pianist Mark King is a former professional musician turned radiologist. Despite a very demanding job as a practicing physician and medical school faculty, he keeps his passion for music very much alive. Here is an excerpt from his version of Jingle Bells pulled from an annual Christmas concert he organized to raise money for the burn unit at Children's Hospital in Columbus, OH. Notice how he transitions from a jazz ballad style to a swing feel and back again. The trumpet solo is by Ben Huntoon and I'm playing bass on this one.
Just Do It
It doesn't have to be the holiday season to take on a project like this. Whether you are a teacher or a student, grab a public domain folk song, nursery rhyme, or hymn tune and see how you can bend into something new. Do it on your own. Don't wait for instructions. Just do it. The only thing that's hard about being creative is getting started so get started and see where the flow will take you.
Until next time, enjoy your creative music making journey.
Bradley Sowash
II III II III II III II III II
Want to work on your creative keyboard playing or teaching skills? Join us at 88 Creative Keys summer camp in Denver, CO.