Dear Fellow Piano Teachers,
I'm writing today to ask you to consider attending the teacher-training track of the 88 Creative Keys Camp.
Co-founded by piano teacher/blogger Leila Viss and myself, the camp is an offshoot of the Pop/Jazz track we planned for the MTNA conference in Anaheim last March. We were convinced by the standing-room-only reaction we had there that a considerable demand exists for training in "off page" ear skills. So we decided to offer the first keyboard camp of its kind to focus solely on improvisation.  After months of preparation, we are now ready to offer students and teachers in-depth training in a unique hands-on-the-keyboard-in-front-of-you learning environment.
As the principal instructor, my role has been to develop a hands-on curriculum designed to answer the numerous questions teachers ask after my presentations at music conferences. (I do this a lot. If I haven't been to your area yet, I probably will be soon).
Leila, who lives nearby, made all the local arrangements from locating a huge audio/visual enabled room, to arranging digital pianos to be delivered, to printing T-shirts, banners and handouts among many other details.
What You Will Learn:
How to make technique such as Hanon and scales more creative, relevant and fun.
How to teach harmony, chord symbols and develop chord fluency in your students
How to develop ear skills such as intervals, chord recognition and playing tunes by ear.
How to go outside the box with method books as a springboard to off page creativity.
How to play from a lead sheet
How to teach composition through prompts.
How to teach from my "That's Jazz" series with confidence.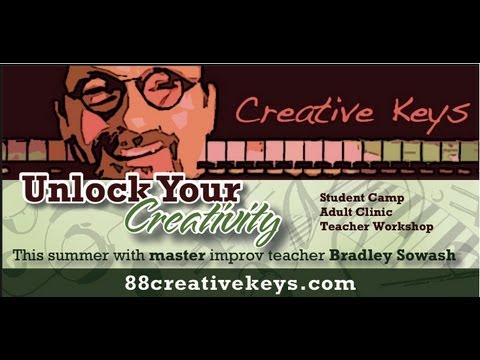 Why You Should Attend:
Make History – This is the first piano camp to focus solely on playing off page and part of a rising movement in piano pedagogy dubbed the Eye Ear Revolution™
Hands-on training – Forget the talking head behind the podium.  Experience new concepts directly on our keyboards.
Qualified Instruction – Bradley Sowash is the author of the top selling jazz piano method, "That's Jazz" and is the national Pop/Jazz Chairperson for MTNA.
Take a Private Lesson – Sign up for one-on-one sessions that address your specific questions about improvisation at the piano
Observe – Watch Bradley teach younger students creative techniques you can integrate into your own teaching style.
Value – Tuition is priced very reasonably with nearby inexpensive but nice hotels
Location – Overlooks the Rocky Mountain front range, nearby upscale shopping/dining and easy access to natural areas
Good Investment – There are riches in niches. Expand your studio roster by teaching the ear skills today's piano students really want so they can play in school jazz bands, contemporary worship groups, or enjoy jamming with their chord playing guitar buddies.
Learn – Develop your own off page chops in a safe and comfortable setting with an understanding and experienced teacher.
Current Enrollment:
9 of 12 teachers (3 remaining)
22 of 30 students (8 remaining)
11 of 12 adult students (1 remaining)
Learn more here.
The bottom line is that I've put my heart and soul into this event.  I'm proud to be able to offer it to you, my teaching colleagues and want you to know that it would mean a lot to me personally to have you participate.
Thank you,
Bradley Sowash