MTNA conferences are HUGE. There's no way to see and do everything even if you go non-stop from the first 8:00 a.m. session to impromptu midnight gatherings with friends in the lobby.  The buzz is such that you ride along on an energy wave from learning sessions to exhibit booths to interesting hallway conversations, often forgetting to eat or even sit down.
Here's what I love about MTNA conferences in no particular order:
Checking out new resources, instruments, and teaching tools in the exhibit halls.
Hanging out with colleagues and old friends.
Eating fabulous evening meals with interesting new people.
Dreaming up collaborations with music entrepreneurs and go-getters.
Giving and getting hugs in our uniquely friendly profession.
Great people-watching from fuddy-duddies to fashionistas.
Seeing people in person that you met online.
Picking up teaching tips from peers in their sessions.
Pedagogy Saturday
My responsibilities for this year were to co-chair the improvisation track on Pedagogy Saturday with George Litterst.  Having enjoyed a standing-room-only crowd at last year's Pop/Jazz track in Anaheim, I was very pleased with the sold-out attendance and enthusiasm for this year's improv track. My only disappointment was that, with so many dream clinicians, we had to overlap tracks so it was not possible to see everything.  If you were unable to be attend make it around to all the sessions, here's a summary of my experience.
Classical Pianists And Improvisation, An Historical Overview – George Litterst
Using clever power points and his trademark humor, George reminded us that most of the 18th- and 19th-century musicians whom we revere had amazing improvisational skills. He also described how improvisation was a part of the daily life of many piano teachers from yesteryear who would "teach during the week, improvise silent film accompaniments on Saturday, and play a church service on Sunday."  As a classically trained musician, his description of his journey from what I call "improvphobia" to discovering the deep satisfaction of making one's own music was very moving.
Understanding Chord Symbols – Bradley Sowash
I have found that one of the biggest challenges beginning pop/jazz improvisers face is learning to construct and interpret chord symbols. So my goal for this session was to provide a straightforward explanation of the principles, common practices and variations in contemporary chord nomenclature.  Since my time was limited to only 40 minutes for this session, I clipped along and even ended a bit early (rare for me). By the way, if you missed it or would like a recap, you may be interested in a detailed PDF eBook on this topic that can be downloaded here.
Understanding And Improvising In Popular Styles – Christopher Norton 
One of the things we did differently this year was to provide keyboard labs so teachers could learn "hands-on" rather than just sit and listen to talking heads all day. Drawing on his original compositions, Christopher got teachers quickly improvising in specific styles with clear guidance on voicing, note and rhythm choices. One point which drew discussion in the tweetosphere (is that a word?) was his comment that contemporary pop styles were more interesting for kids than jazz.
If I may articulate my own thoughts on this, I found it amusing that after this statement, my friend Christopher Norton who I enjoy and respect, went on to demonstrate said "pop" styles with a bossa nova and a blues – both jazz mainstays. I know that for many, "jazz" only means 1930's popular swing music but that's just the tip of iceberg. Jazz is very much alive today everywhere except in the media. Consider this: Did you know that more musicians are playing jazz today than at any other time in history? Think of all the middle and high school jazz bands, solo piano cocktails gigs and guitar solos in rock bands… "What?," you are thinking. "Rock is not Jazz." I say it is. To paraphrase Willie Dixon, jazz and blues are the roots of American music. Everything else is the fruit. For my part, I don't even think of jazz as a style. Rather, it is an approach to making music that involves reading and improvising over a given harmonic progression and groove that embraces many styles. Even a high school jazz band is expected to groove in rock, funk, Latin, and blues shuffles in addition to the expected swing style. As I see it, any music that involves a musician, eyes closed, playing improvised licks while navigating chord changes is an off shoot of the that musical revolution that began in New Orleans around 1900 that we've come to call jazz.  That's why I made a point in my That's Jazz piano method to include swing, rock, funk, Latin and blues shuffles among many other popular styles.  What are your thoughts on this?  Feel free to comment below.
Group Improvisation On And Off The Bench – Leila Viss
Ever ebullient and persuasive, Leila achieved a historical landmark in her session. By way of demonstrating how to engage pianists of any age in dynamic group activities, she eased attendees step-by-step from simple shoulder rolls on the beat, to hip sways on another beat, until she had us dancing full out! PIano teachers dancing at a conference?  You have to see it to believe it.  Fortunately, I was able to grab a few seconds of video on my cell phone: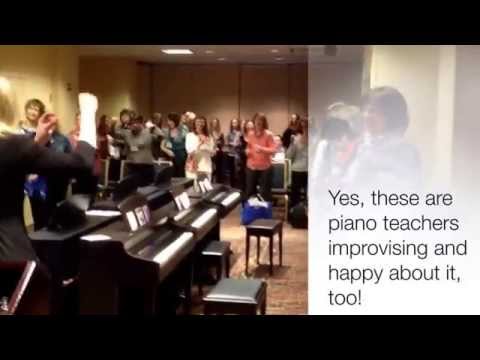 Preparing Your Student For High School Jazz Band – Bradley Sowash
Boy oh boy, this is a big subject.  I worked on my power point slides for days to prepare for this one. At first, I thought the attending teachers were un-responsive by being so quiet but then I noticed they were taking notes feverishly as I turned on a fire hose of information about voicing chords, accompaniment patterns, working within a rhythm section, and understanding stock jazz styles. A related PDF eBook titled can be downloaded here.
Going Further With Lead Sheets – Bradley Sowash
It's not very difficult to play left-hand chords under a right-hand melody on a lead sheet, but how do you extend a 30-second tune into a longer arrangement? In this hands-on-keyboards session, we had a great time working through creative techniques to personalize a lead sheet of Twinkle, Twinkle Little Star. A dumb kid song?  Yes.  That's why it's perfect for teasing out the creative possibilities.  A related PDF eBook can be downloaded here.
On a personal note, have you ever found yourself really "on" like when you were the life of the party and everyone laughed at your jokes and you actually said the witty things you usually wish you had said only later? For some reason, this session was like that. The audience/presenter loop  was electric and we ended up having a blast together.  This had to be one of the most satisfying sessions of my career and I hope I can find that wavelength again at future sessions.
How To Apply Today's Experiences To Real Life Lessons – all presenters
The discussion at this wrap-up session ranged from questions about whether playing by ear and improvising are the same or different skills to whether scale and drills are necessary to developing ear skills.  But the real fun surfaced from the lineup of presenters sharing funny stories and embarrassing moments about times they improvised unsuccessfully.  The inspiring takeaway was that even seasoned professionals fall on their face from time to time when it comes to creating music spontaneously. It's the nature of the beast to play right through insecurities.
Jam Session – all presenters and participants
The day ended gloriously with another historic first: An interactive jam session in which presenters traded improvised licks with teacher participants.  As the leader of the jam, I passed out easy lead sheets of the likes of Saints Go Marching In to get things rolling before morphing into a two-chord jam on Oyo Como Va and even simpler faire such as Twinkle, Twinkle.  I can't tell you how satisfying and joyful it was to be actually making music rather than talking about it.  The smiles were abundant and you could just feel a sense of community swell in the room. Priceless.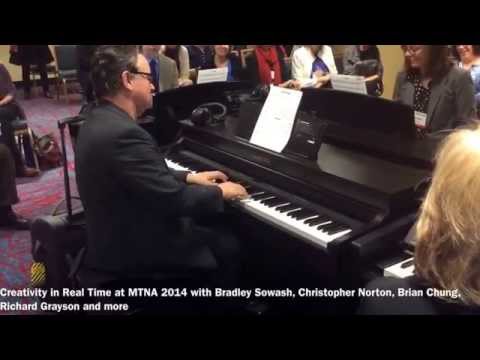 Watch how Phillip Keveren kicks this off and then how Richard Grayson amused us all with his classical variations on Let it Be around 4:29.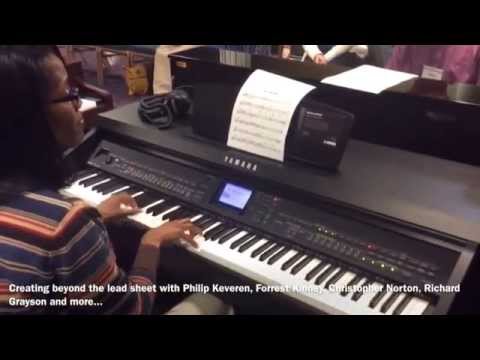 (Thanks to Leila Viss for assembling these videos.)
What fun!  I came home absolutely spent and exhausted but thrilled with the response and interest level in this area of music about which I feel so passionate.
Until next time, enjoy your creative music-making journey,
Bradley Sowash
 II III II III II III II III II III II III II III
Want to learn to play away from the page?
Sign up for one or all of the events below!