I've been thinking about the proverb that says, "Give a man a fish and you feed him for a day. Teach a man to fish and you feed him for a lifetime."
What is Fish in the Private Music Studio?
A young lady I know has been "casting her net about" in a search of a new guitar teacher.  I asked her why she discontinued lessons with her previous two teachers and she said it was because, "All they did was show me how to play tunes [fish].  I want to learn about what all you can do with the guitar so I can write better songs [how to fish]." Can't you just see it?  The teacher says, "Here, let me show you where to put your fingers so you can play Sweet Home Alabama. Students and parents like it at first because after a few lessons… "Hey, that sounds pretty good." But in the long haul, not understanding how music works, the student remains totally reliant on the teacher for each new "fish."
Don't Rock the Boat
The same thing happened to me when I was a student.  As a boy, I had an earnest desire to make my own music.  Unfortunately, Mrs. E., my first teacher relied solely on a fixed curriculum.  So, when I asked if she could show me how to "do my own thing," she told me to stick to her plan of Hanon, Method Books and Clementi. Like many students who obediently accept "fish" for years at a time, I tried to do that, all the while looking for the section in the books that would deal with composing, playing by ear and improvising.  It never came of course.
Now, I don't really blame my old teacher for taking this cookie-cutter approach.  I learned a lot from her about technique, timing, reading rhythms and the rest.  I just think that my desire to learn "how to fish" was outside her realm of experience.  It just felt safer for her to maintain the same curriculum for each student regardless of his or her musical interests.  There was a certain comfort for her knowing that she would circle the Bb on page 12, measure 5, beat 3 as each new student predictably played B naturals.  In my case, she didn't even have to get out her red pencil.  As the fourth member of my family to study with her (including my mother for heaven's sake!), my hand-me-down books showed up in my tote bag pre-marked in her handwriting.
Something's Fishy at Practice Time
So, after a while, I began "cheating" by pursuing creative skills on my own during practice time instead of sticking only to the written music.  Since I was (and am) pretty much a do-gooder by nature, it felt uncomfortable to "sneak" in my own music behind my teacher's back.  Fortunately, I grew up in a household that encouraged creative exploration in all forms.  To illustrate, once, when I dropped an open milk carton on the kitchen floor, my mother's response was, "well, now that's it's already spilled, do you want to play with it before we clean it up?"  Out came my toy cars to explore what it would be like to do wheelies and spinouts behind a crashed dairy truck.  So when I went "off page" with my music assignments doing my own thing or adding variations to the written music, it was reassuring that my Mom pretended not to notice. Later, when I wanted to quit lessons altogether, she "baited" me with the purchase of cool Fender Rhodes elecric piano, (the same instrument played by my rock keyboard heroes at the time).  She also found me a more creative teacher who showed me the wonders of scale/chord relationships and lead sheets. Lucky for me, it worked and the creative ear skills I learned from "Louie" (along with the reading skills I learned from Mrs. E.) laid a solid foundation for me to make a living in music.
Today's Best Teachers
I think it's easier these days for students to find "how to fish" teachers.  Today's most dedicated music teachers are much more apt to individualize each lesson to meet the student right where they are.  These are the teachers who are always checking out the latest "bait" like books, games, apps, etc. with which to "lure" their students.  Then they "reel them in" by tweaking whatever works and discarding what doesn't "hook" them.  These are the teachers who watch for light bulbs to go off in the student's mind.  They know to listen carefully when a student says something like, "Oh, I get it.  What you are explaining is sort of like ________" because they know that what gets said in the blank reveals a personalized way of learning that can be built on in future lessons.  Typically, these teachers are lifelong learners who constantly search out new ideas by attending conferences, reading trade journals, and tuning into inspirational blogs like this one. Ha!
Fisherman Teachers and Hungry Students
So what happens when creative music teachers accept students who are passionate about finding the means to personal expression?  When teachers take it upon themselves to explore the whole range of expressive tools, these lucky students come to understand that whether playing written music or improvising, they actually have artistic choices!
Like most teachers, the hungry student is the one I am most interested in teaching and the creative teacher is the kind of educator I strive to be.  I want my students to know that there are many ways to make music.  I want to help them discover their options by posing questions and experimenting.  I might ask, "How would this sound if you changed the texture here?" or "What about playing a snippet of the melody where you get stuck on what to improvise?" It's a longer process but, in the end, if their interest holds and they work at it (and those are big ifs), they have a shot at becoming artists who play from a point-of-view.  That's because rather than merely reproducing the notes on the page, these students come to understand how they came to be there in the first place.
Meet Two Fisherman in Training
Confession: I don't do recitals. In my studio, we shoot videos as final projects instead.  At the risk of using this blog as a platform for "Looky here, aint' my students something?" I'd like to share videos of two of my students who I believe are becoming artists. As each new generation reinvents its musical culture, these two may just have the possibility of contributing to the music of their time.  In their performances of improvised jazz standards, both of them choose and implement individualized concepts we discussed beforehand which I've taken the liberty of pointing out by adding captions.
1. Michael Takes Five
First, Michael Wade, age 14 who, in addition to piano, plays bass and drums and enjoys writing and recording original songs he produces himself by playing all the instruments. He chose this standard because at the time, we had been talking about the passing of Dave Brubeck who made this tune famous and because Michael happened to be practicing the scale and chords in the key of this tune (Eb minor).  He also professes to like odd time signatures (which makes finding repertory a challenge).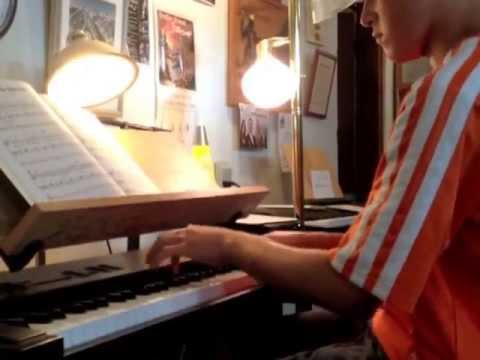 2. Spencer's Stolen Moments
Next, Spencer, age 16, who studies piano and composition with me and regularly performs as both a musician and actor in musical theater productions.  He devours soundtracks and hopes to become a film composer.  After our first lesson four years ago, his mother wrote in an email: "…It was like he walked through the wardrobe door into Narnia and discovered a world he had only dreamt of before! Just your statement that 'There's more than one way to play a song' was enough to intrigue him."  For his semi-spontaneous arrangement, he came up with a mix of his own ideas, concepts from our discussions, borrowed ideas from online performances, and a chord substitution he described as "an old Broadway trick."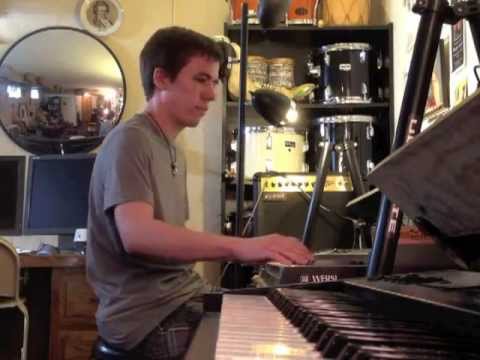 Thanks for honoring my students and my teaching philosophy by watching and reading this blog and just remember, you can tune a piano but you can't tuna fish!
Until next time, enjoy your creative musical journey!
Bradley Sowash
Want to learn to play or teach like more creatively?  Consider using That's Jazz, America's top-selling jazz piano method, attending 88 Creative Keys camp, or inviting Bradley to lead a workshop or master class in your area.